Safety

STRIVING TOWARD EXCELLENCE AND PROFESSIONALISM IN SAFETY (STEPS)
Construction is intrinsically one of the most dangerous industries in existence. At Nyco, we share a strong commitment to ensuring safe working conditions for all our employees. We employ extensive measures to bring safety issues to the forefront in order to eliminate unsafe practices. Our STEPS program takes a multifaceted approach to evaluate potentially threatening conditions. Although we could go into our extensive list of safety measures ranging from daily safety checklists to annual safety reviews, the summation of our safety program involves three principles: education, identification and empowerment. From the moment our employees walk through the door, we train them how to act safely, we require them to observe and identify any potentially unsafe conditions and we authorize everyone to make decisions to impact jobsite safety.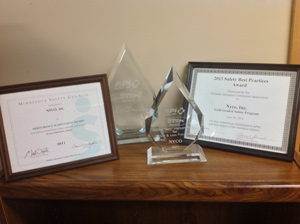 Award Winning Safety
Our safety record speaks for itself. We consistently maintain a total recordable incident rate (TRIR) and experience modification rate (EMR) that is significantly lower than the industry average. Our performance has been recognized with numerous awards and recognitions including the Minnesota Safety Council's Meritorious Safety Award, and the Midwest Insulation Contractors Association's 2013 Safety Best Practices Award.
What this means for our Customers
Unsafe practices are expensive! By employing excellent safety control processes, these cost savings allow us to reduce prices to our customers on a variety of different levels. By maintaining superior TRIR and EMR rates, we are able to keep general liability insurance costs to a minimum. Furthermore prevention of workplace injuries plays a huge role in reducing workers compensation claims. We are able to pass these cost savings down to our customers. On a more practical level, however, safe practices mean reliable service with fewer work stoppages.
Interested in learning more about our safety program? Contact us today.