Pro-10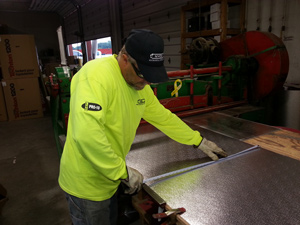 Saying goodbye to stigma
The stereotype of the crude, rough-around-the-edges construction worker is obsolete. It's time to cast those in the trades for what they truly are: Diligent, hardworking, and highly skilled craftsmen that allow us to build amazing structures and better our lives. This is the mission of Pro-10, a professional organization developed by the Labor User Contractors (LUC) Committee. The aim of Pro-10 is to enhance professional behavior, elevate jobsite safety, and improve industry relations. Pro-10 offers certifications and training that assist tradespersons, unions, contractors and owners in fostering an atmosphere of synergistic collaboration.
Raising the bar on Professionalism
The goals of Pro-10 are a perfect fit for the NYCO organizational culture. This is why NYCO has become the first Pro-10 contractor working on the first Pro-10 jobsite in the nation. With roughly 60% of our workforce and administrative staff completing a rigorous training curriculum involving 4 hours of material relating to topics in safety, professionalism, mutual respect and communication and an additional 6 hours covering topics ranging from construction economics to collaborative problem solving, NYCO has set a high standard of performance for itself, its employees and its industry. As contributing members of the Pro-10 community, NYCO is dedicated to the vision of elevating the trades in order to foster meaningful productive relationships within the construction industry.
Contact NYCO and learn more about the Pro-10 organization.