About NYCO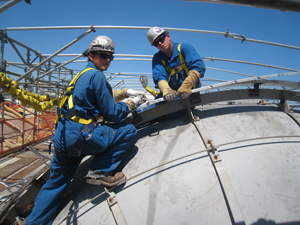 NYCO - For All Your Mechanical Insulation Needs
OUR MISSION:
PROVIDE unparalleled customer service
DELIVER the best value mix of cost, quality, safety, scheduling, and project management available.
EMBODY a spirit of continuous improvement, innovation, diversification and individual ownership.
WHO WE ARE:
NYCO is a value-added insulation contractor of insulation services operating primarily in the upper Midwest. Since its inception in 1988, NYCO has positioned itself as an industry leader. We pride ourselves on our ability to meet and exceed your needs with cost effective solutions, highly specialized knowledge, and a customer service oriented approach.
WHAT WE DO:
Facilities Serviced
Petrochemical Facilities
Food Processing Plants
Paper Processing Mills
Water Treatment Facilities
Ammonia Plants
Apartments
Retirement Homes & Assisted
Living Facilities
Schools & Higher Education Facilities
Hospitals
Office Buildings
Power Plants
Manufacturing Facilities
Product and Service Offerings
NYCO, Inc. - Dedicated to Improving our Industry