Firestop Insulation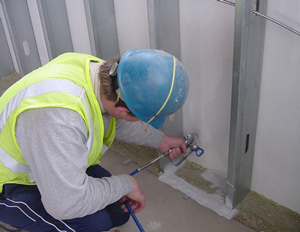 How safe is your facility in the event of a fire?
While sprinkler systems and fire extinguishers are an important precautionary measure for actively preventing and extinguishing fires, these systems are also prone to mechanical failures and maintenance issues. For this reason it is also vital to ensure that fires are contained from spreading and causing more widespread damage to your building. NYCO offers firestop insulation solutions that provide passive fire protection systems to minimize the impact and contain damage in the event of a fire. Our firestopping services are dedicated to protecting your investments and ensuring the safety of your number one asset, your employees.
What is Firestopping?
Firestopping is a method of controlling the spread of smoke and fire by sealing openings, penetrations and joints that connect the various areas of your facility. Isolating the source of a fire can mean the difference between repairing damage and watching your entire building and investment go up in flames. Knowing which firestop insulation products are properly rated to resist the spread of fire and how to install them is a pivotal component of any passive fire protection system. Let NYCO assist you in designing a system that will protect you from your worst case scenario.
Talk to the firestop insulation team at NYCO today.